As we hand make and package your orders from our Melbourne studio, we ask for up to 7 business days to complete your pieces.  
When your order has been shipped, you will receive an email with tracking information. Make sure to check your junk inbox if you cannot find it.
We make our orders in chronological order. If you pay for express shipping, that is for Australia Post's express service. In normal circumstances, orders with express shipping will be 1-3 business days from when Australia Post collects your order from us! Regular Parcel Post is 3-10 business days.
We want you to get your order as quickly as possible! For this reason, if we cannot complete your entire order due to stock shortages or any other unforeseen circumstance, we often will ship out the pieces we can complete and then send a second parcel with the remainder of your order as soon as we can!
Everyday Hugger Hoops (Twist Hoops)
Our Everyday Hugger Hoops are what we call twist hoops and they have a specific way to be opened and closed to ensure they're comfortable and secure.
Hold your hoop with your fingers on either side of the ear piece. To open and close, gently twist the hoops sideways until the thin post comes out of the hoop. Do not open the hoops by pulling the ends apart as this will bend the shape and break the hoops). Thread the post through your piercing and twist the hoop back into place until the ear piece clicks back into the hoop.
HOW TO CLEAN OUR MATERIALS
Like all jewellery, over time our pieces may get dirty, especially those worn every day, but luckily, they can be cleaned easily! Our 14k Gold Filled and 925 Sterling Silver pieces can be cleaned with a polishing cloth as frequently as you desire! Our Gold Vermeil and Stainless Steel pieces however cannot be cleaned with a polishing cloth. You can put these pieces in a bowl of water with gentle liquid detergent and wipe it with a lint-free cloth.
Gold Filled
What is Gold Filled?

Gold Filled is a solid layer of gold pressure bonded to a base metal, usually Sterling Silver. This process is not to be confused with Gold Plating, as Gold Filled has 100% more gold content than Gold Plating, making it more valuable, durable and tarnish resistant.

Caring for Gold Filled jewellery

Gold Filled Jewellery is perfect for everyday wear due to its quality and durability. It can be worn to bed, whilst showering, swimming and exercising. To keep it extra shiny, we recommend purchasing one of our Sunshine Polishing Cloths. Store pieces hanging up or boxed individually, away from dust and dirt.
Sterling Silver
Sterling Silver

Sterling Silver is an alloy, containing additional metals in order to add strength. This is done as pure silver is way too soft to be used in jewellery making.

Caring for Sterling Silver jewellery

Wearing your jewellery often is the best way to avoid discolouration, as natural oils in your skin will clean the silver. Alternatively, we recommend purchasing one of our Sunshine Polishing Cloths for a deeper clean. Storing your pieces in individual air tight bags is a great way to prevent oxidisation in your silver pieces when they aren't being worn.
Stainless Steel
Stainless Steel

Stainless Steel is used in jewellery making for its affordable price, durability and hypoallergenic properties. It is an iron alloy mixed with chromium and has a low carbon content, making it extremely resistant to corrosion. We use the highest-grade Stainless Steel with a protective covering on top to ensure longevity. This makes Stainless Steel jewellery perfect for people who have nickel allergies or sensitive skin, so can't wear jewellery containing gold or silver alloys.

Caring for Stainless Steel jewellery

Our Stainless Steel pieces are perfect for daily wear. To get the longest life out of your pieces we advise removing them before coming into contact with water. When following the care instructions your pieces should last around 9-12 months. 
Gold Vermeil
Gold Vermeil

Gold Vermeil jewellery is made by first creating the base of the item from Sterling Silver, followed by plating it with a thick layer of gold. At FinerRings we use the thickest coating available of 14K solid gold to coat our silver base. This means our Gold Vermeil pieces will stay yellow for around 6 months, as long as the recommended care instructions are followed.

Caring for Gold Vermeil jewellery

Gold Vermeil won't rust or make your skin green, but with age and wear the silver base will eventually be exposed. To give your vermeil pieces the longest life they should be taken off before showering, swimming and exercising. To clean gold vermeil, dip a lint-free cloth in a bowl of water with gentle liquid detergent and gently wipe your jewellery piece. We don't recommend polishing your vermeil jewellery as this process can rub off the layer of gold, revealing the silver underneath.
WARRANTY
Our warranty is 3 months from purchase date.
If an item break within the warranty period we will replace it for you. We often need the item back with us in order to complete this process. 
REFUNDS
We only offer refunds for items that are faulty or broken. We do not offer refunds for 'change of mind'. 
In order for us to process a refund, we need the item back with us in FinerRings HQ. 
We do not offer exchanges or refunds on items that have been customised.
We do not offer exchanges or refunds on our items that are sold by our stockists. We suggest reaching out to the place of purchase to organise any repairs you may need.
For hygiene reasons, we do not offer exchanges or returns on earrings regardless of if they have been worn or not.
We do not cover lost or misplaced items once in the hands of our delivery partners (most often Australia Post). We are more than happy to help our customers find a resolution, however we do not provide refunds or replacements.
Exchanges
We are happy to offer you an exchange on an item for another item that you would prefer! We can offer this within 14 days of receiving your order or from the purchase date in store.  
We are more than happy to repair any of our pieces bought from our store or online store! If it is within warranty, we can replace the piece that has broken. If it is outside of the warranty, we can most likely still repair it however there may be some costs incurred and replacements will not be offered.
We can customise the length of almost all of our necklaces, anklets and bracelets. If you want to add an extension onto a chain, please make sure to purchase the length of extension you would like. Feel free to contact us if you have any questions about it!
The pieces we cannot shorten or extend are:
Herringbone necklace, bracelet and anklet
Gem linked necklace, bracelet and anklet
Clip chain necklace and bracelet
Rope necklace and bracelet
For any customisations, we recommend adding a note to your order during checkout with any specifications you think will be helpful. 
At FR, we follow the US size guide for rings.
Pinky (XXS) = Size 3 US
Extra small = Size 4 US
Small = Size 5 US
Medium = Size 6 US
Large = Size 7 US
Extra Large = Size 8 US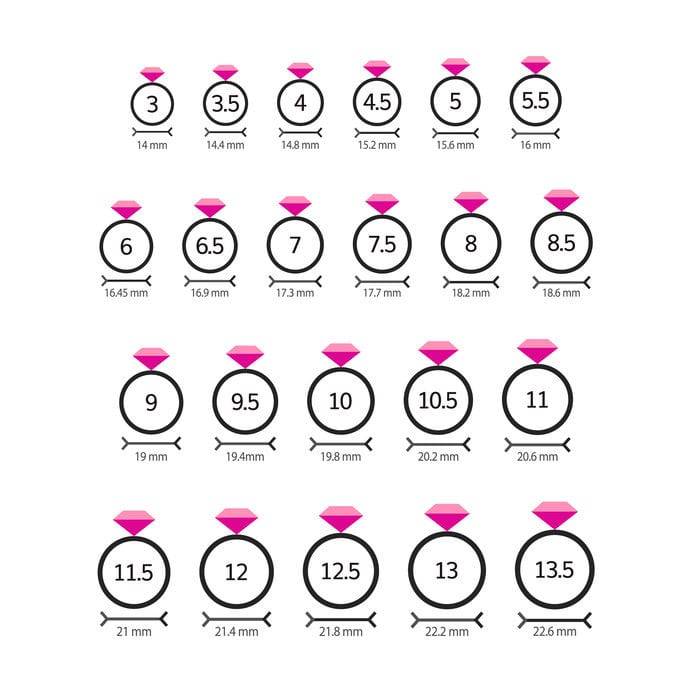 Gift wrapping and messages
All our online orders are sent in our standard packaging which is dependant on the piece purchased. Due to wastage, we send our products out in one single box. If you'd like multiple boxes for multiple gifts in one order, please let us know in the notes section during checkout.
If you would like the team to include a card in your order, we can definitely do that. Please leave notes for the team in the notes section during checkout.
At the checkout, there is a space for discount codes and digital gift cards. If you have any issues with it, feel free to reach out to our customer service team at info@finerrings.com. We can only accept one discount code per transaction (you cannot compound codes).
Payments
At FR we accept Paypal, AfterPay and all credit cards.
If you're interested in stocking FinerRings jewellery in your store please reach out to stockists@finerrings.com.
We will send you our wholesale catalogue which has all the information you need, we are also happy to answer any questions you may have!
We are always on the hunt for energertic individuals to join our FR family.
You can find all our ethos and career info at this link.
FinerRings was originally established in Melbourne, Australia at the home of our founder Taiba.
While studying to become a nurse, Taiba grew FinerRings into the brand you see and love today. Starting at small makers markets around Melbourne, she opened her first store in November 2018 originally as a pop-up store. Years later, we are still in the same location shop 2/500 Chapel St and have recently opened a second location at 187 Avenue Road in Mosman (NSW), and a third at 246 Brunswick St in Fitzroy (VIC).
This is just the start of our young brand and we can't wait to bring you more stores and locations all around Australia in the not too distant future!